Using an iPhone as My Webcam
August 8, 2021
After working from home for a long time, I decided that it's time I improve my setup for doing video calls. Until now I've had my MacBook Pro standing next to my monitor, so I could use the built-in webcam. Besides taking up desk space that I would like to use for other things, it also resulted in bad video on calls since the webcam was pointing at the side of my face while I was looking directly into the monitor. It looked like I was not paying attention to the call. I needed a webcam that could be mounted to my monitor so it would point at my face.
I started researching webcams and asked Twitter for input. Several people suggested that try Camo by Reincubate and an old iPhone. I had an old iPhone 6 Plus that I had not used for years, so it was a perfect opportunity to put that to use, and if it worked out I wouldn't have to shell out $200 for a modern webcam.
To start using Camo as a webcam you'll need both Camo for iOS and the Mac app which can be downloaded from Reincubate's website. After downloading both apps, you must grant the iOS app access to the camera and microphone and plug the iPhone into the Mac. That's all there is to it. Now you'll be able to select Camo as a webcam in software like Google Meet and Zoom.
Camo doesn't support FaceTime. That's not a big deal for me since I'm doing far most of my FaceTime calls on my iPhone and iPad. Camo doesn't support Safari either. That's not a big deal for me either since I'm already doing all my Google Meet calls in Chrome. I find Google Meet works best in Chrome and I use the open-source app Finicky to automatically open Google Meet links in Chrome and open all other links in Safari.

The video quality of my iPhone 6 Plus is fine for my needs. It's at least as good as the camera in my MacBook Pro. Do note that I'm by no means an expert in photography and I don't have strong opinions on image quality.
After verifying that Camo worked on my iPhone 6 Plus and that I was happy with the video quality, I started searching for ways to mount the iPhone to my monitor so the camera would be pointing at my face. Luckily the Reincubate team has tested various mounts and have written about their findings. After reading their post I decided to try the FLOVEME Magnetic Phone Car Mount. Here's a photo of my setup.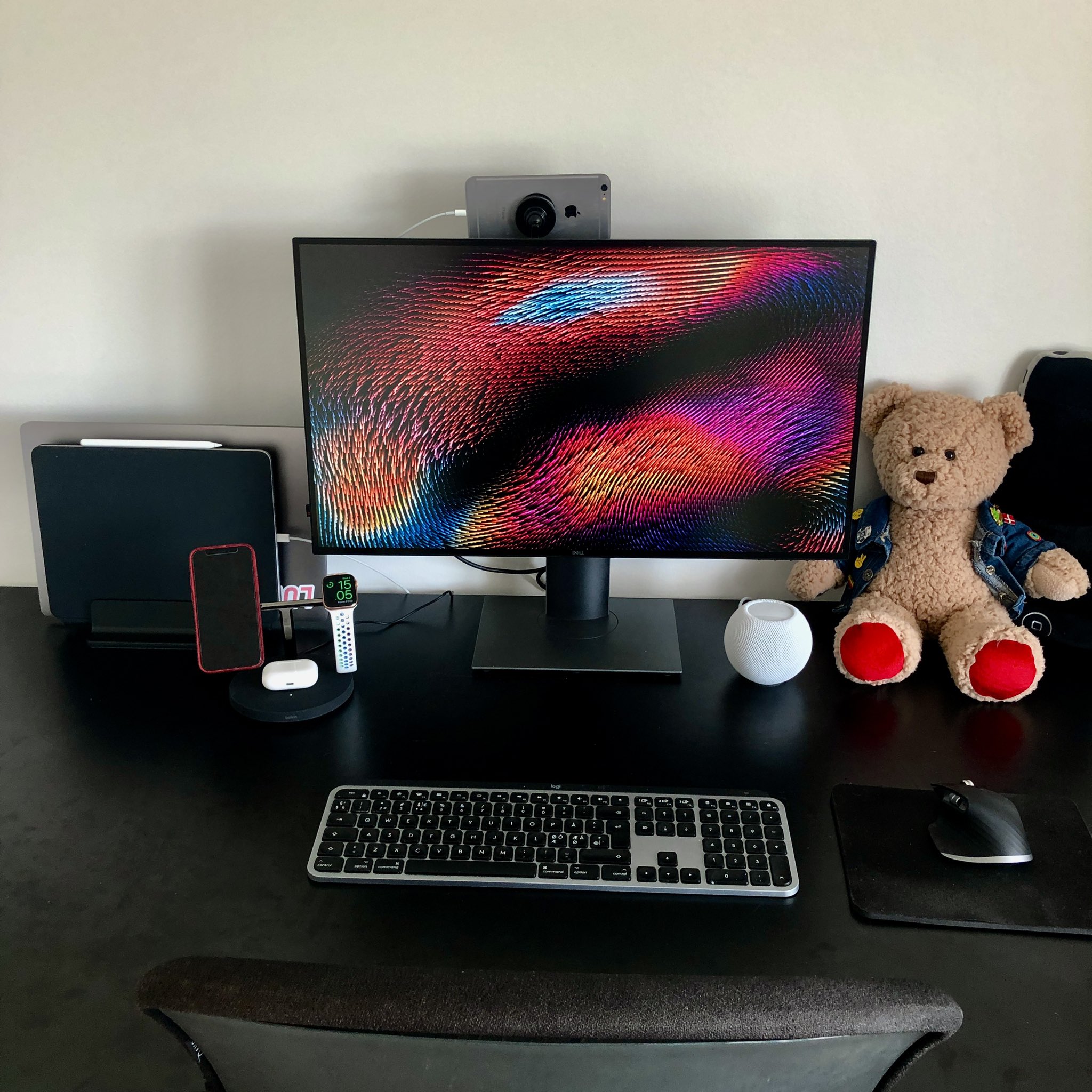 The FLOVEME stand is attached to my monitor using the adhesive pad that came with the mount. The stand can be adjusted from side to side and up and down, making it easy to adjust the image so I'm always positioned correctly in the image.
I prioritize only having to plug a single cable into my MacBook when using it on my desk. Therefore my iPhone is connected to my monitor. Camo isn't happy to have the iPhone plugged in through a hub as it may lead to connection issues. It considers my monitor a hub and will show a warning when the phone is connected. However, I haven't experienced any connection issues so far.
Once the Camo app is launched on the iPhone it will keep the iPhone awake, even if the camera is not in use or the video feed has been paused from the Mac app. I like to manually lock the iPhone when I'm not using the webcam. This will prevent the Camo Mac app from having a connection to the iPhone app and use the camera. That's the equivalent of using one of those webcam covers.
I will only be using the iPhone 6 Plus as a webcam and I will have it permanently mounted to my monitor, so to make it easier to launch the Camo app on the iPhone after the phone have been locked, I put the iPhone into Single App Mode using Apple Configurator and disabled the passcode on the phone. When in Single App Mode (sometimes also referred to as "kiosk mode"), the iPhone will only be able to launch a single app and the app will automatically be launched when the phone is unlocked.
Single App Mode can be enabled using Apple Configurator by plugging your phone into the Mac and selecting Actions > Advanced > Start Single App Mode.... That will make the iPhone supervised meaning that its features can be restricted from elsewhere by installing profiles. After supervision has been enabled, you will be prompted to select the app to be used in Single App Mode.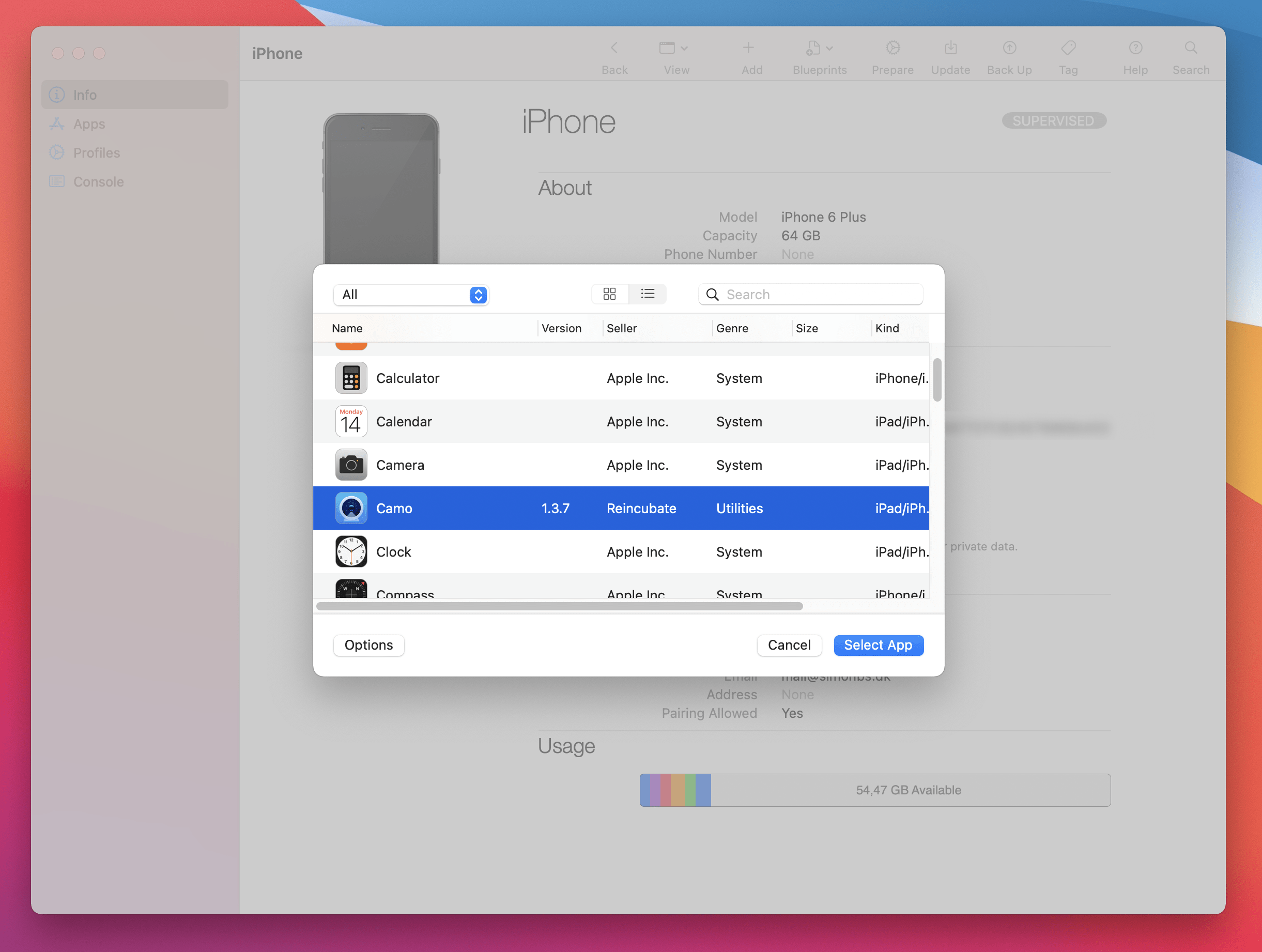 After enabling Single App Mode you'll find that there's a new profile installed on the iPhone. You can see the profile in Apple Configurator and on the device. The profile tells the iPhone to be in Single App Mode. Deleting the profile through Apple Configurator will disable Single App Mode.

Now I can tap the Home button to launch the Camo app. When I'm done with a video call, I will press the side button to prevent Camo on the Mac from starting the webcam. Both buttons can easily be pressed without taking the phone off the mount.
Sorry for the mess in the background. I'm still setting up my home office 📦🙈
Camo is a great webcam for me for a few reasons.
It has given my old iPhone 6 Plus a new life.
The video quality seems to be better than when using the webcam in my MacBook Pro.
It no longer looks like I'm not paying attention while on video calls since my webcam is now pointing at my face.
Camo has plenty of settings to tweak the video. Like adjusting saturation, brightness, zooming in, and much more. I've only tweaked the video by increasing the saturation a bit. I like that the colors pop a bit more than it does at the default settings.
I'm happy with using Camo and will stick with it but I'm very intrigued by Detail, another app for using your iPhone as a webcam. Detail is in early access as of writing this. I haven't tried Detail since it requires iOS 13 and the iPhone 6 Plus only runs iOS 12 but I'll try it out once I get a newer spare iPhone.
Camo is free with an optional subscription to unlock all features, remove the watermark and use the app on two computers.